Zhejiang, the Land of Fish and Rice
Zhejiang Province is located in southeastern China, bordered by Shanghai to the north, Fujian to the south, Jiangxi and Anhui to the west, and Jiangsu to the north. Zhejiang received its name because of the former name of Qiantang River, which means 'curving river' in ancient times. Zhejiang Province is the smallest, most densely populated, and one of the wealthiest provinces in China.
Zhejiang is one of the most developed provinces in China in terms of tourism. Since ancient times, Zhejiang has been famous for its poetic landscape and profound cultural heritage. Water towns, Buddhist temples, lakes, and ancient architecture are all intriguing.
If you travel to Zhejiang province, its capital city Hangzhou is a must-visit destination and should be at the top of your itinerary. The Chinese saying "Above there is heaven; below there is Suzhou and Hangzhou" reflects how enchanting Hangzhou is. Hangzhou has a long history of over 2,000 years and is one of the birthplaces of Chinese civilization and one of the seven ancient capitals of China. Marco Polo called Hangzhou the largest and most magnificent city in the world. Hangzhou has many scenic spots and well-preserved historical sites, including West Lake, Lingyin Temple, Six Harmonies Pagoda, Longjing Tea Village, and Feilai Peak.
If you're looking for natural wonders, don't miss Mt. Yandang. Located in Yueqing County of Zhejiang Province, Mt. Yandang is known for its stunning scenery, including a lake at its peak that attracts many geese. Another must-visit site is the Tianyi Pavilion, the oldest private library in Asia.
For a taste of history in Zhejiang Province, visit Xitang, Nanxun, and Wuzhen, charming water towns that offer a glimpse into the past prosperity of the area. Shaoxing is also a lovely town with narrow canals running through it.
Zhejiang is also home to many Buddhist sites and rich religious cultures, Mt. Putuo is referred to as the "Buddhist Kingdom on the Sea."
Aside from its stunning attractions, Zhejiang is known for its local specialties such as Longjing tea from Hangzhou, which is one of China's most prestigious teas. Hangzhou is also famous for its silk and embroidery, as it was a major hub on the ancient Silk Road. Zhejiang cuisine is recognized as one of the eight traditional Chinese cuisines, known for its fresh and mild taste that preserves the natural flavor of ingredients.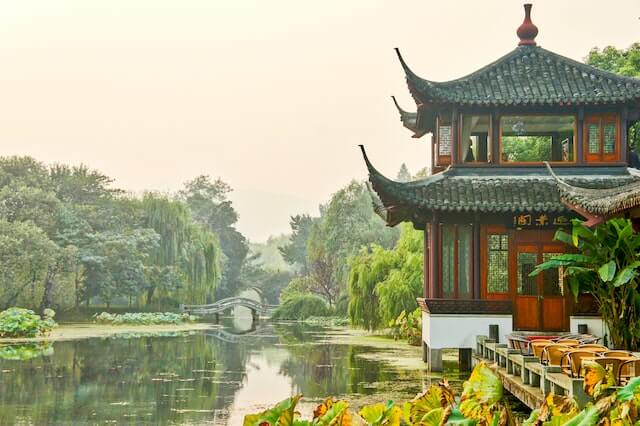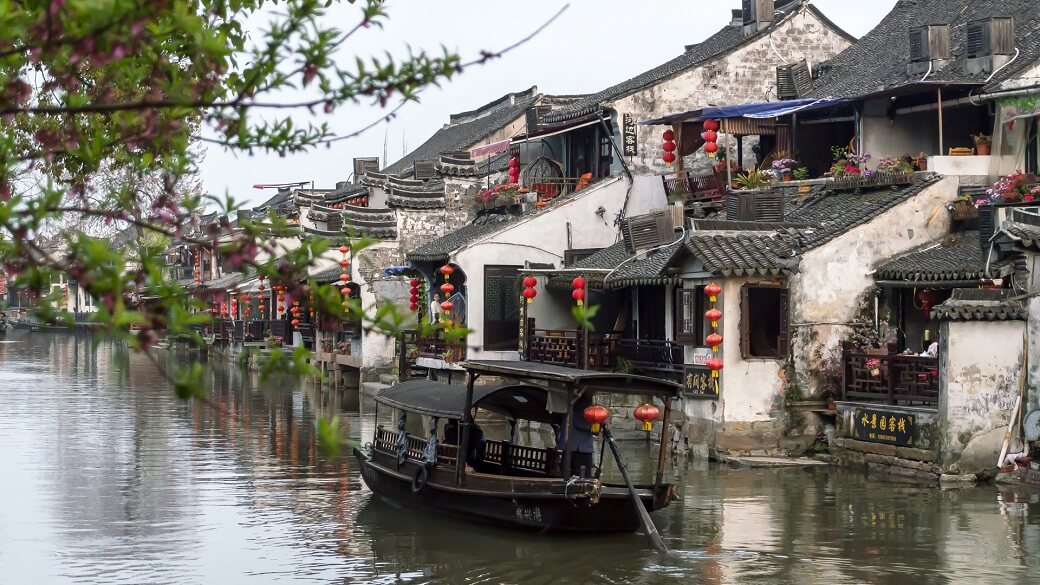 Xitang village, a quiet water town, is only 1 hour and 15 minutes drive from Shanghai.
Area: 101 800 km²
Average annual temperature: 15~18°C
Geography: Zhejiang province is located south of the Yangtze River Delta on the southeast coast of China. 
Population: 64,567,588 habs. (2020)
Altitude: 200 – 1,000 m
Ethnic minorities: She, Hui, Manchu, Miao
Economy: agriculture, forestry, fishing, electromechanical industries, textiles, chemical industries
By plane
Hangzhou Xiaoshan International Airport is located 30 km east of the city. It offers domestic lines with all major cities in China, as well as international flights to about 40 global cities, including San Francisco, Amsterdam, Madrid, Sydney, Melbourne, Vancouver, Rome, Jeju Island, Singapore, Hong Kong, Macau, Taipei, Tokyo, etc.
By train
Taking a train to Zhejiang is easy and convenient. You can get on a bullet train to major cities such as Shanghai, Suzhou, Nanjing, Huangshan, Beijing, Xiamen, etc. The easiest way from Shanghai to Hangzhou is to take a bullet train, which takes around 2 hours. You can buy the ticket on Trip.com, and you can also contact us if you need help.
Hangzhou Daming Mountain Geopark Zhejiang 
The best time to visit Zhejiang is during the Spring (March to April) and Autumn (September to October) when the weather is pleasant and warm. With a subtropical monsoon climate, Zhejiang weather features moderate annual temperatures. Zhejiang province enjoys four distinct seasons. It is wet and hot in summer and dry and cold in winter. Sometimes affected by typhoons, May and June tend to be rainier than other months.
Zhejiang cuisine is one of the Eight Culinary Traditions of Chinese cuisine with a light and fresh flavor. It is renowned for its attention to detail in selecting ingredients, unique cooking techniques, preservation of natural flavors, and meticulous fine production.
The ingredients of Zhejiang cuisine are fresh and in the season, which is selected strictly. Fresh seafood, river-based products, and ingredients that are in season are widely utilized. Zhejiang's skilled chefs masterfully employ techniques such as sautéing, frying, stewing, stir-frying, steaming, and roasting to bring out and enhance the ingredients' natural flavors.
Famous local specialties cuisine:
West Lake Fish in Vinegar: The grass carp is steamed with ginger and then topped with a flavorful sauce made from a mixture of black vinegar, brown sugar, soy sauce, corn flour, water, and stock.
Dongpo Pork: Braised Pork Belly: Made from half fatty and half lean pork belly meat, slow-cooked in a generous amount of Shaoxing rice wine.
Beggar's Chicken: A traditional dish in which a chicken is tightly encased in lotus leaves and then sealed in clay before being baked in a special oven or over an open flame.
Longjing Shrimp: Large live shrimps are marinated in a mixture of egg whites, cornstarch, and rice wine before being cooked with steep Longjing tea leaves.
Braised Bamboo Shoot: Made by stir-frying tender spring bamboo shoots with a generous amount of oil and sugar.
Shaoxing Wine is a renowned yellow wine that hails from Shaoxing in Zhejiang Province, known for its exceptional quality and widespread use in Chinese cooking. It is commonly used to remove the greasiness and fishy odor from meat, fish, and seafood dishes.